Chinese restaurants in Naga City are not scarce by any stretch of the imagination. So is Lokwan Noodle and Dimsum House – located at WinWin Mall, Diversion Road, Naga City – worth your while?
Short answer: definitely! The food is undeniably delicious, with bold, authentic flavors and a price tag that won't break the bank. Lokwan Noodle and Dimsum House should tick a lot of boxes for any Chinese cuisine enthusiast.
Hot & Sour Soup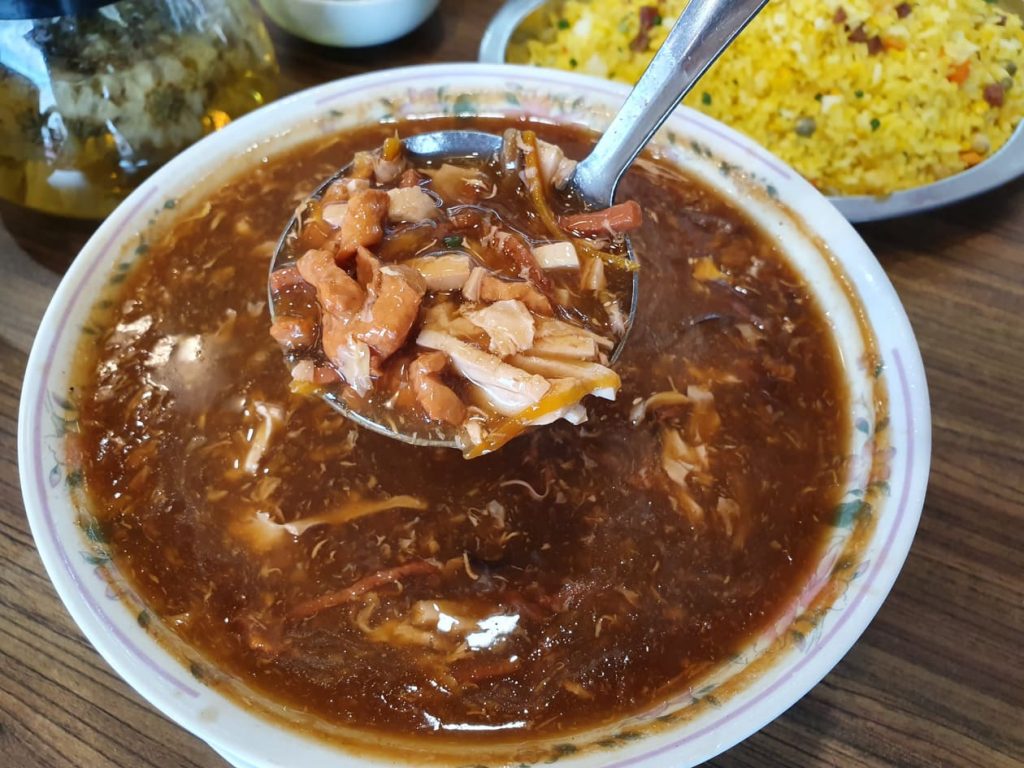 My absolute favorite! It was the perfect balance of flavors and textures. Very intriguing – the taste became deeper and bolder but never quite the same with every bite. The sour taste set off the ingredients exquisitely well.
☑ Authentic Flavors
As much as possible, they source their spices and ingredients abroad to ensure you'll get food that tastes as close as possible to what it would taste if you had it in Mainland China or Taiwan or Hong Kong or Singapore.
For instance:
Actual Sichuan chilis (i.e. chilis sourced from the Sichuan province) are used in their Mapo Tofu.
The noodles they use to make their Taiwan Style Beef Noodles are imported from Taiwan.
The dried chrysanthemum flowers for their chrysanthemum tea come from Mainland China.
The vinegar they use for their Hot & Sour Soup is also sourced abroad.
White Chicken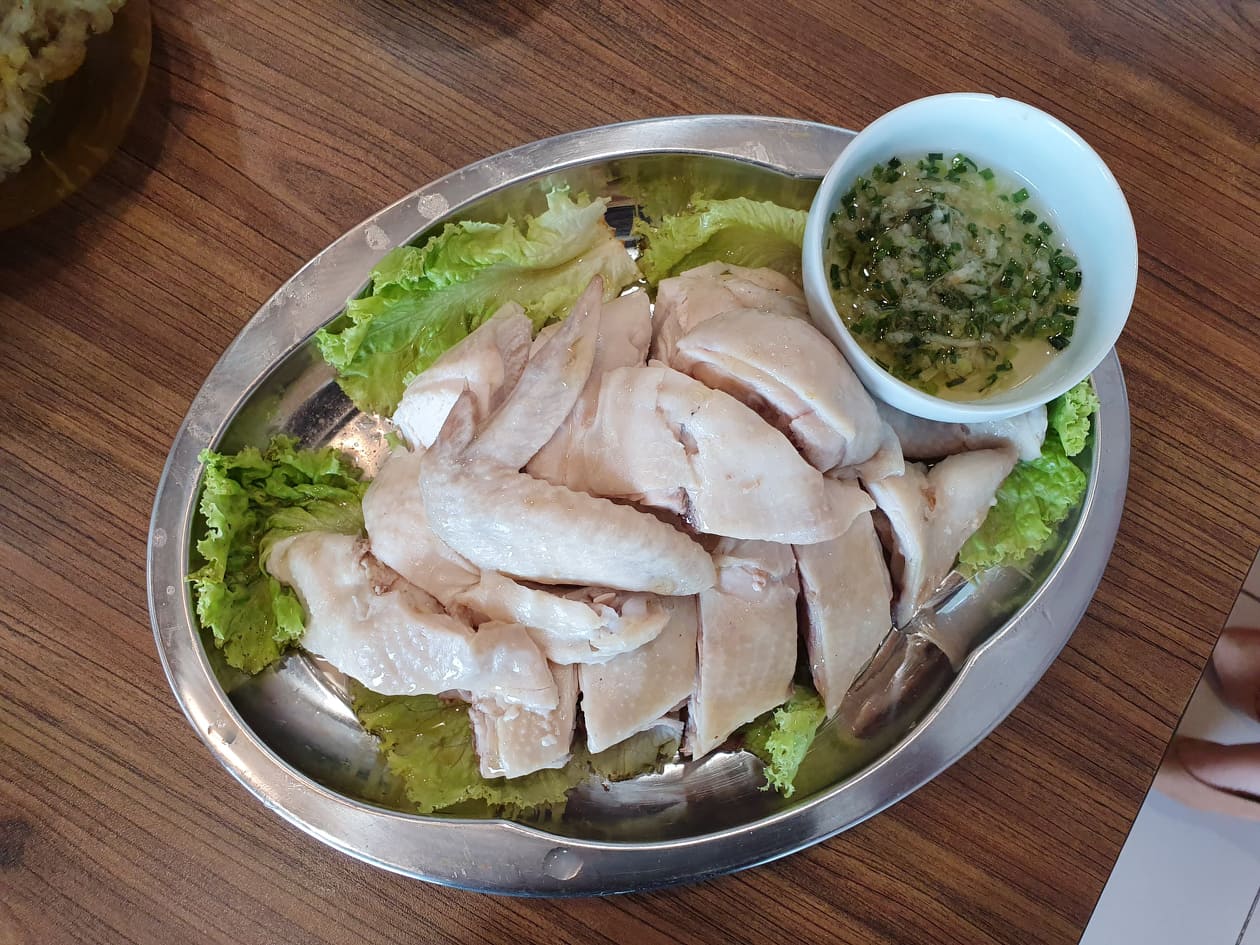 Loved, loved their White Chicken! It was moist and tender; great technique right there! You eat it with a dip. Word of advice: dip sparingly for the dip is really intense and salty to complement the clean taste of the chicken.
This should be ordered ahead, as cooking this takes time.
☑ Affordable
You wouldn't believe the prices on their menu. They're so affordable. The owners, James and Caryl Chiu, actually want their food to be accessible to more people, so they priced it low enough to ensure that more people would be able to afford it. In fact, one whole pot of chrysanthemum tea – if I'm not mistaken – costs only P50! 😲
You want authentic Chinese dishes? Lokwan Noodle and Dimsum House has it. But you won't have to pay an arm or a leg to get it.
Broccoli with Shrimp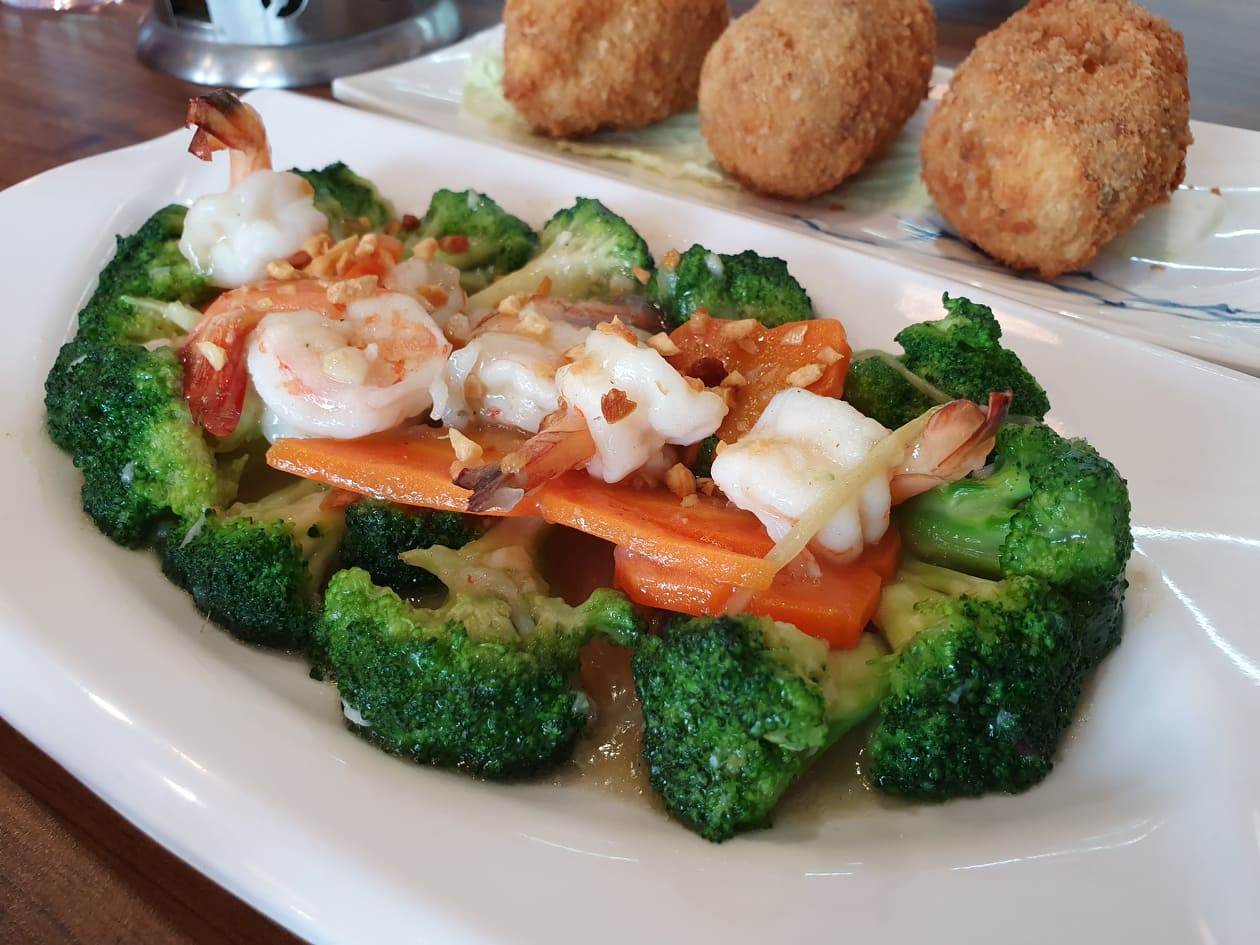 The cook on the broccoli – look at that luscious green color – shows great technique. Properly seasoned, too. Great for those who want a spot of greens.
☑ Family Recipes
Most of the recipes came to James and Caryl through James' mother, and these recipes have been handed down from generation to generation.
☑ Expert Cook from Binondo
Authentic ingredients plus recipes handed from generation to generation make a great combination. But when you add to the mix the experienced cook they scouted from Binondo, you get a winning combination.
☑ Homemade/Handmade Quality
They make their own dimsum. None of those pre-made, store-bought stuff.
Crab Stick Roll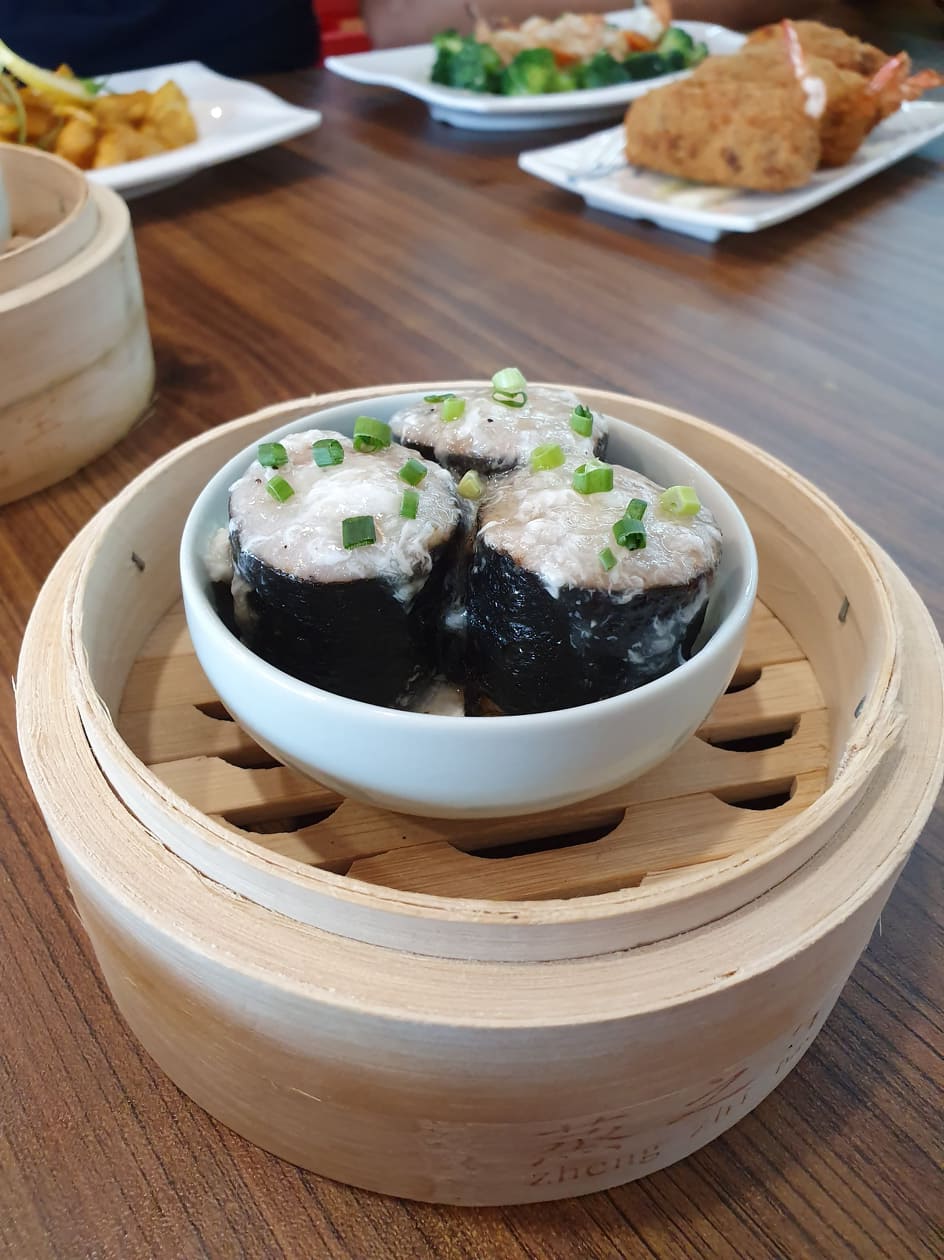 I had their potsticker Sharksfin Dumpling and their seaweed-wrapped Crab Stick Roll. They were both delicious. You can tell by the texture and the flavors that they did not skimp on the ingredients.
☑ Freshly Made
They actually make their steamed siopao fresh everyday. This is one of their bestsellers – for good reason.
☑ Custom-tailored to Taste and Preference
If you have very specific tastes and preferences – for instance, you want your food with less salt, less oil, even something as drastic as actually omitting an ingredient altogether – just tell them. They'll try to accommodate you as much as possible.
Kiampung Rice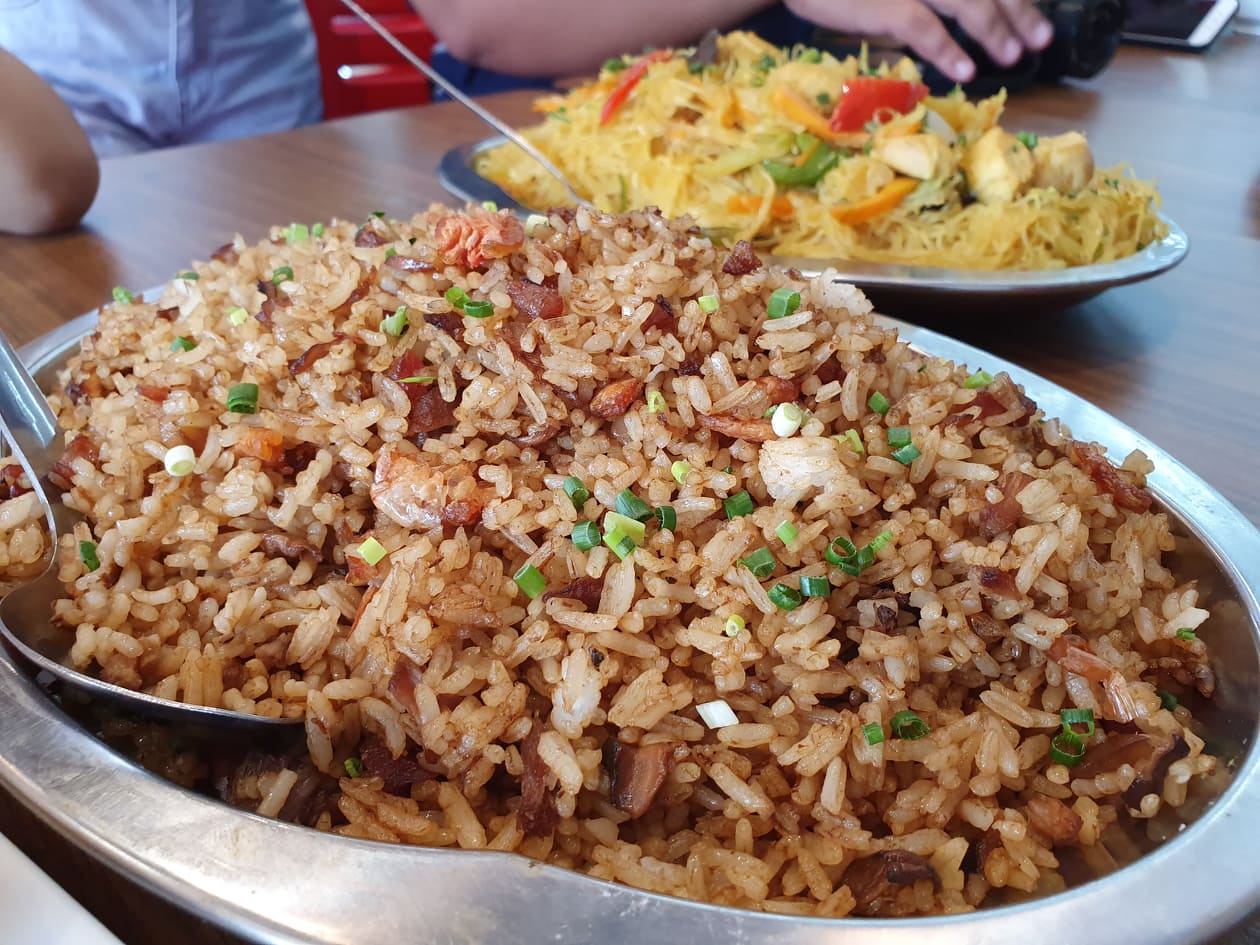 Kiampung Rice literally translates to "Salty Rice." Flavor-packed, well-seasoned! It has bits of meat, chinese longganisa, mushroom, dried shrimp, green onions, and probably other ingredients as well.
Pairs really well with their White Chicken!
Their Menu
Lokwan Noodle and Dimsum House has all the Chinese staples you may be craving for such as Yang Chow Rice, Fried Chicken, Lemon Chicken, Siopao, and Maki Soup.
They also have Liok Pit He (pork-stuffed shrimp), Radish Cake, Curry Noodles, Mongolian Beef, Bean Curd Roll, Sweet and Sour Fish, Fresh Lumpia, Taiwan Style Beef Noodles (made with beef brisket and noodles imported from Taiwan), and so much more. Refer to the menu (farther down) for more info on your choices.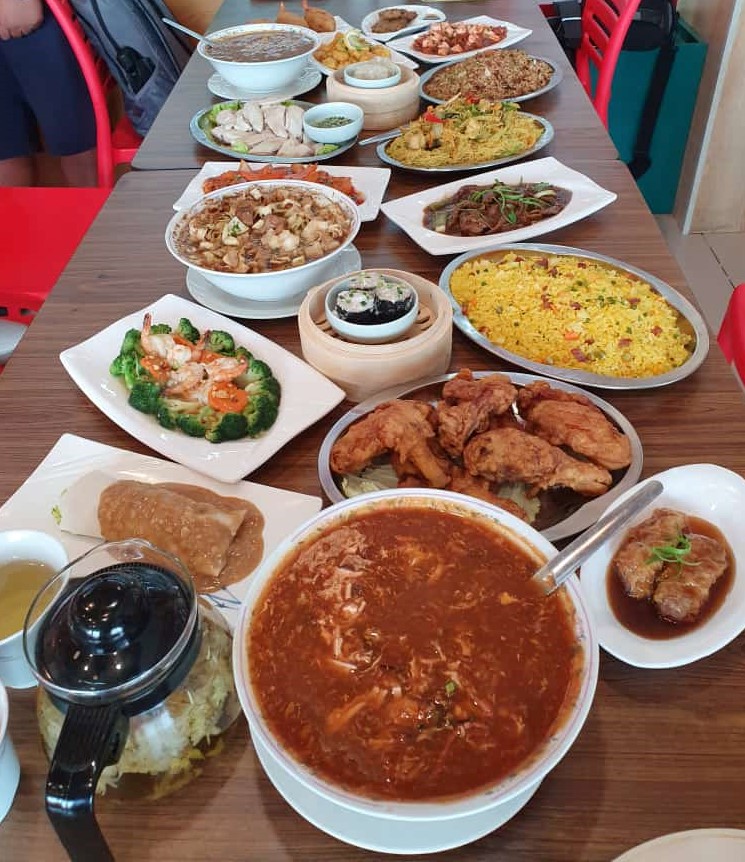 I highly recommend the Mapo Tofu (far up, right, after the Kiampung Rice) if your appetite needs a boost; made with Sichuan peppers, it's really spicy! It would wake your taste buds right up and make you ready to taste more of Lokwan's delightful food.
The Verdict
Lokwan Noodle and Dimsum House can definitely become your go-to Chinese restaurant in Naga City. I sure am coming back for more – especially of that particularly appetizing Hot & Sour soup!
Visit them now at the Ground Floor of WinWin Mall, Diversion Road, Naga City.