The true essence of being a Bicolano is being a foodie! Known for our sumptuous meals made with gata and sili, Bicolanos have proven to be one of the best cooks and food enthusiasts in the country!
And of course, who wouldn't forget about the famous and timeless Kinalas which has become a staple in every Bicolanos' life? But did you know that the famous La Paz Batchoy is now in Naga City?
LA PAZ BATCHOY, WHAT?
Similar to our iconic Kinalas, this famous Iloilo dish can also definitely win your heart. This hearty meal originated from the district of La Paz, Iloilo. Hence, the name La Paz Batchoy.
According to some accounts, a butcher named Federico Guillergan invented Batchoy at La Paz market in the year 1938. Stories say that Guillergan called his dish "Bats," and added "Choy" which was derived from the vegetable viand Chop Suey.
This well-known noodle soup is made up of freshly cooked round noodles and pork organs such as liver, kidney, intestines, and lungs! It won't be complete without crushed pork cracklings or chicharron, chicken stock, vegetables, and egg!
THE J5 LA PAZ BATCHOY
There is no denying, as a Nagueño, we love our Kinalas. It's been one of our comfort foods! But trying out something new can let us experience other people's cultures. Hence, when we heard about this new food find, we definitely packed and headed to J5 La Paz Batchoy!
Before we tried the La Paz Batchoy itself, we had a short but sweet talk with the owner who is a native of Iloilo! When asked whether what she's serving us is the authentic taste of the La Paz Batchoy in Iloilo, she gave us a meek but confident nod!
And since we couldn't contain our curiosity, we ordered a heaping bowl of the La Paz Batchoy! Look at that!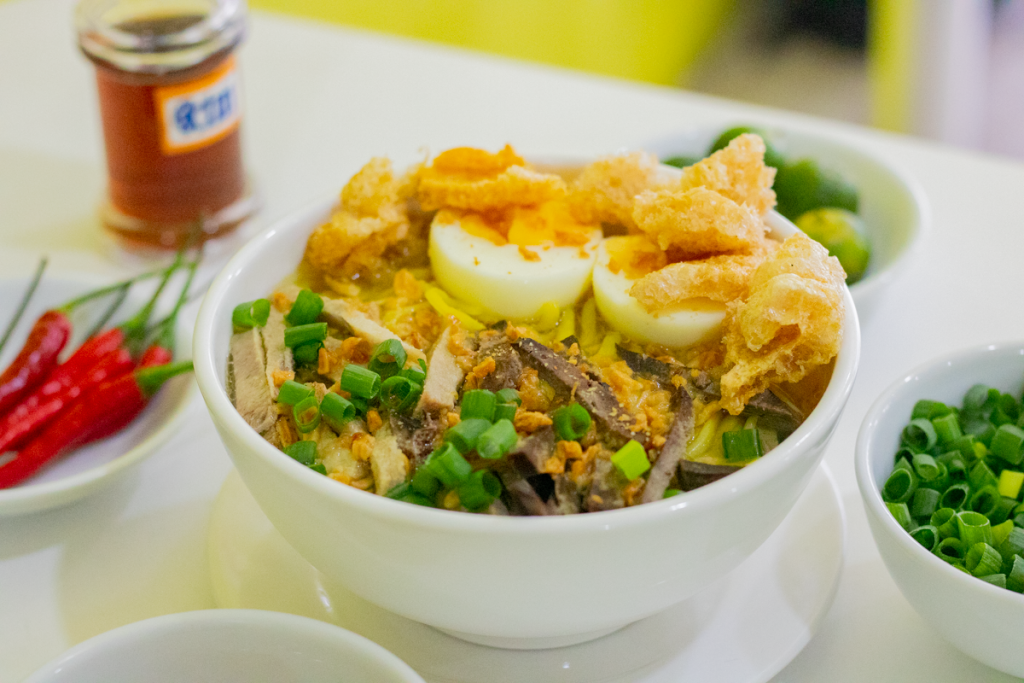 OUR VERDICT
Having a taste of an authentic La Paz Batchoy is like being able to taste warmth, simplicity, and balance in a bowl. The saltiness from the chicharron is being balanced by the delicious taste of the meat and liver!
Unlike Kinalas that has a thick broth, the texture of La Paz Batchoy's stock is similar to the famous Mami. But despite the difference, La Paz Batchoy has its own charm!
The variety of meat and the creaminess of the perfectly boiled egg compliments the tasty noodles!
Take note, you can get to taste this hearty meal for only P50 to P60 ONLY! Definitely a worthy buy!
And if you're going to ask us whether we're up for another bowl? Yes, we are! We definitely recommend this new food find for Bicolanos who want to try something new to our palates!
Excited to have this gastronomic experience? Head now to J5 La Paz Batchoy! Their store is located in front of SM Naga City.