They say that beauty is in the eye of the beholder. But isn't it too selfish to let someone decide whether you're beautiful or not? As humans continue to embrace technology, we've come to realize that beauty is not something far-fetched. It can be achievable. Hence, I was in awe when I heard about Dave Resoco Plastic and Aesthetics, Bicol's premier center of plastic and aesthetic surgery.
Plastic Surgery and Aesthetic Clinic, What?
If you're someone who needs to change or enhance something physically, you're probably considering plastic surgery. It's is a surgical procedure that involves restoration, reconstruction, or alteration of the human body. It's also divided into two categories, reconstructive surgery, and cosmetic surgery.
Reconstructive Surgery – True to its name, this type of surgery is performed to restore your body after suffering from an injury or a disease. It also aims to correct defects you were born with.
Cosmetic Surgery – This category of plastic surgery focuses on enhancing appearance through surgical and medical techniques. Usually, this type of plastic surgery is performed on all areas of the head, neck and body.
Dave Resoco Plastic & Aesthetics
Welcome to the one and only LEGIT Plastic Surgery & Aesthetic Clinic in Bicol! Although experienced in doing both categories of Plastic Surgery, Dave Resoco Aesthetic & Plastic Surgery focuses on providing cosmetic surgery. It aims to empower everyone by giving them the freedom to choose beauty. Currently, they are offering surgical and non-surgical treatments, depending on their client's plastic and aesthetic needs. Here's a rundown of Dave Resoco Plastic & Aesthetics' services.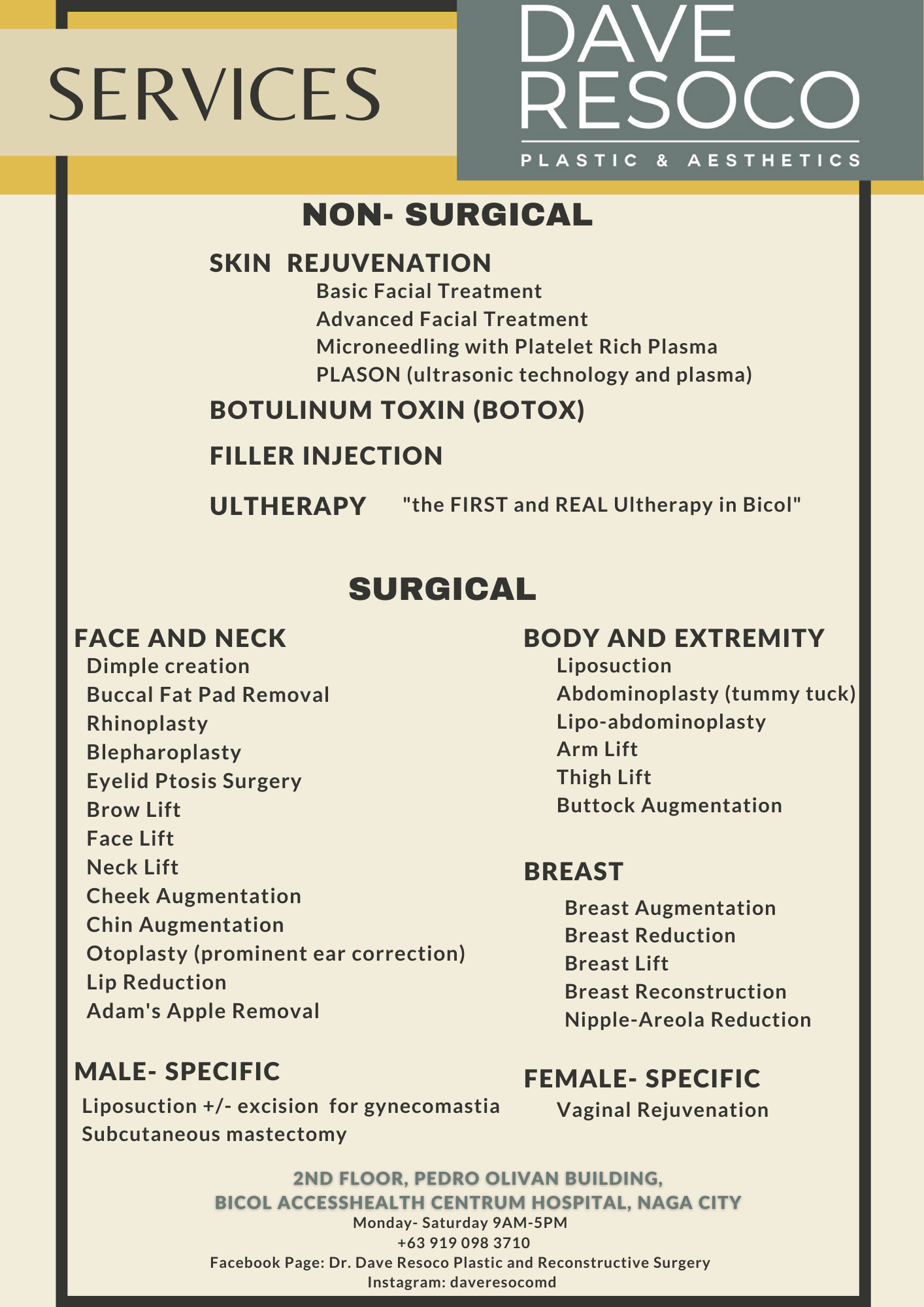 NON- SURGICAL PROCEDURES
SKIN REJUVENATION
Basic Facial Treatment
Advanced Facial Treatment
Microneedling with Platelet Rich Plasma
PLASON (ultrasonic technology and plasma) – This treatment is an advanced, innovative, and safe anti-aging treatment. It's the ultimate secret for a smooth and flawless skin!
BOTULINUM TOXIN (BOTOX)
FILLER INJECTION
ULTHERAPY – Brace yourselves because this is the FIRST and REAL Ultherapy in Bicol. Ultherapy is the only FDA-cleared, non-invasive procedure that lifts the neck, chin and brow, and improves lines and wrinkles on the upper chest.
SURGICAL PROCEDURES
FACE AND NECK
Dimple creation
Buccal Fat Pad Removal
Rhinoplasty
Blepharoplasty
Eyelid Ptosis Surgery
Brow Lift
Face Lift
Neck Lift
Cheek Augmentation
Chin Augmentation
Otoplasty (prominent ear correction)
Lip Reduction
Adam's Apple Removal
BODY AND EXTREMITY
Liposuction
Abdominoplasty (tummy tuck)
Lipo-abdominoplasty
Arm Lift
Thigh Lift
Buttock Augmentation
BREAST
Breast Augmentation
Breast Reduction
Breast Lift
Breast Reconstruction
Nipple-Areola Reduction
MALE- SPECIFIC
Liposuction +/- excision for gynecomastia
Subcutaneous mastectomy
FEMALE- SPECIFIC
Why Trust Doctor Dave Resoco Plastic & Aesthetics?
Entrusting yourself to Doctor Dave Resoco is more than just a visit to the clinic for his surgical or non-surgical services. It's you taking a step towards what you've always wanted. It's you choosing to be beautiful.
Wanna know the reason why you should consider Dave Resoco Plastic & Aesthetics? Check this out:
✅ Doctor Dave Resoco is a board-certified Plastic Surgeon. You'll be confident that you're not dealing with someone who's claiming something he can't deliver. He's there to help you and guide you in making the right choice.
✅ State-of-the-Art Facilities. You'll be assured that all the devices and equipment in the clinic are updated! You're definitely in the right place.
✅ Proven Track Record. Their services produced nothing but happy, satisfied, and beautiful customers. You can be one too!
✅ Ethical, Quality, Updated & Evidenced-based Plastic & Aesthetic Surgery. They are committed to delivering these to you. As they continue to aspire to become the premier center in the Bicol region, you will receive nothing but the best services!
Ready to make some beautiful changes? You can visit their clinic on the 2nd Floor of Pedro Olivan Building, Bicol Access Health Centrum Hospital, Naga City.
⏰ Operating Hours: Monday- Saturday 9AM-5PM
📞 +63 919 098 3710
Facebook Page: Dr. Dave Resoco Plastic and Reconstructive Surgery
Instagram: @daveresocomd