My husband and I decided on a staycation at The Carmen Hotel for our wedding anniversary. We got a suite on the 3rd floor.
The hotel is still in its soft-opening phase, so some of the facilities (i.e. the swimming pool) are not yet available. I believe there's already some equipment at the gym, but I can't be sure as I did not check it out.
Even at its young stage, however, the hotel definitely impresses with its thoughtful design. What a difference the deceptively simple cladding at the hotel's exterior makes. I'm guessing the hotel would be even more impressive when the hotel restaurant's al fresco dining area is completed.
Being the holidays, the lobby was fully decked out for Christmas. This doesn't detract from the modern and contemporary vibe of the hotel, however. Nah, the lobby didn't look busy at all; just gay and festive. The lobby has such a high ceiling that it looks very spacious; all the natural light streaming in through the full glass walls certainly helped.
After sipping on cold welcome drinks at the lobby, we were escorted to our suite on the 3rd floor. What struck us when we alighted from the elevator is the wonderfully smelling hallway. There was none of the "kulob" smell that is the trademark of some hotels. Our room was at the end of the hallway.
Our room, too, smelled great! It was really the best-smelling hotel room I've been to. I'm sure part of it was the sheer newness of the hotel. Our room had one floor-to-ceiling glass wall with a view to the yet-unfinished swimming pool. It was a great room, to be sure. The cream, neutral tones of the hallway, complemented with dark brown wooden accents, were very pleasing to the eye.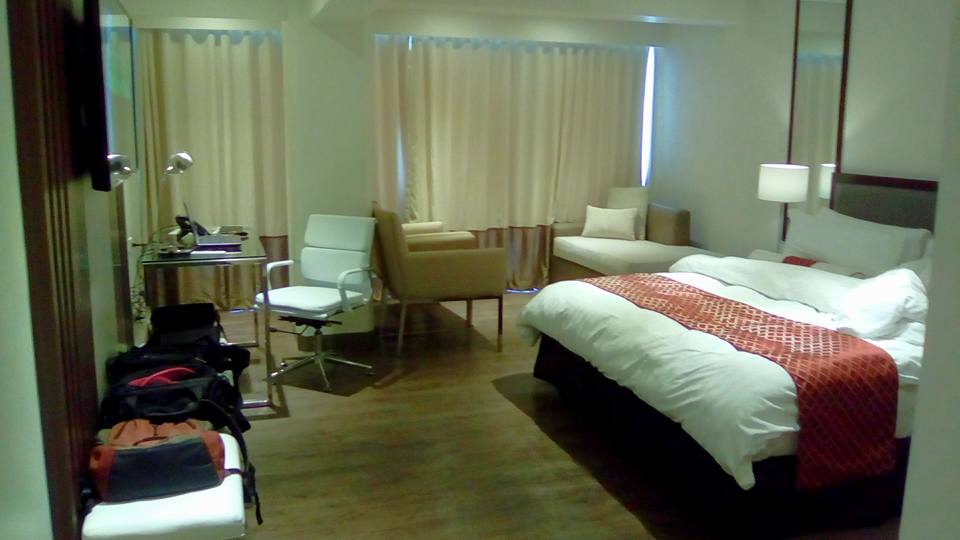 I could notice a few finishing touches missing, like a couple of snaps on the wall above the headboard, but I really didn't mind because I'm well aware that the hotel is still on its soft opening phase.
The luggage rack is great. It held all our baggage with room to spare. And look at that gorgeous work desk on the right; my husband immediately claimed it for his own.
So the room had everything I needed for a mini-staycation. It had a small refrigerator, a hairdryer, coffee-making facilities (an electric kettle with cups and saucers and coffee, cream, sugar), a sewing kit, a flat iron with an ironing board, complimentary bottled water, slippers, and complete shower accessories and toiletries: shampoo, conditioner, body lotion, a pair of dental kits (each with a toothbrush and a mini-tube of toothpaste), shower cap, shaving kit, comb, a pair of drinking glasses, a pair each of face towels, hand towels, (really thick and fluffy) bath towels, and bathrobes (bathrobes, I believe are available in deluxe rooms and suite rooms). There was also ample cabinet space if needed.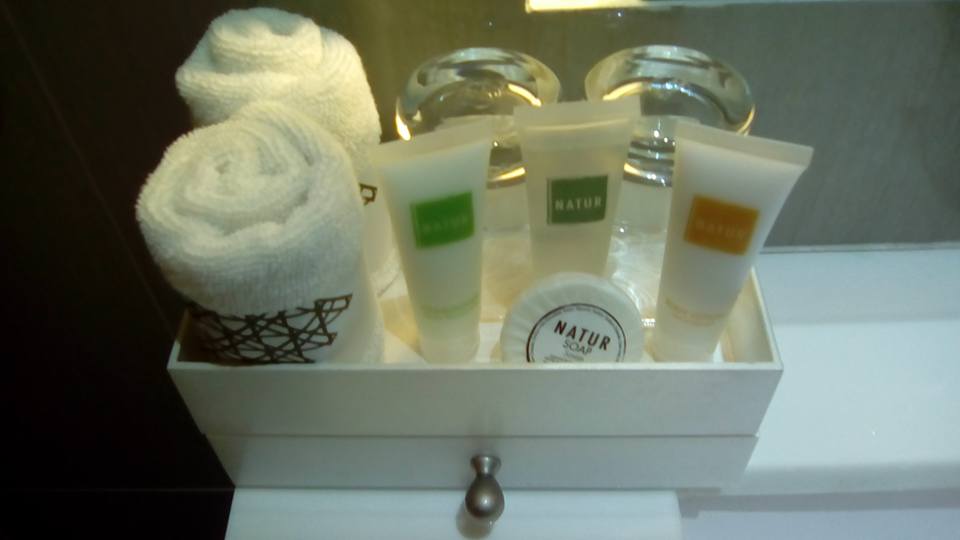 And the king bed – wow! It was super comfortable. The linens felt great on the skin, the comforter so soft and warm, and – to my husband's delight – there were four full-size pillows (two for each). There were 2 more pillows in the cabinet ready to be used, if needed. The air-conditioner (an inverter type with ionizer and "follow me" function) did not disappoint. It performed admirably – even in the morning when I let the sun's strong early morning light in through the room's floor-to-ceiling glass wall.
The room was truly well-appointed and very comfortable.
We were also lucky enough to stay at the hotel when the occupancy rate was high. It meant a buffet breakfast the next day. And wow, the food was fantastic!
At first I thought the Filipino breakfast favorites station at the center was all there was to the buffet. I felt pretty satisfied with it – yang chow fried rice, pancit bihon guisado, pork tocino, hot dogs, fried bangus, scrambled eggs with tomatoes and onions, chicken oriental, fried saba. It was enough to fill my plate. But upon looking around, I realized there was a lot more choices.
There were fruits – watermelon, pineapple, banana, apple.
There was a DIY salad bar – dressing choices of olive oil, apple cider vinegar, thousand island, ceasar; and a variety of things to make a great salad like romaine lettuce, pickled jalapeño, green bell peppers, green olives, black olives, sweet corn kernels, cucumber, carrots, tomatoes, pineapple chunks.
There were dried fish choices – boneless dilis, fried abo.
There was a bread station – a white bread, wheat bread, a toaster for warm toast, butter, homemade mixed fruit marmalade, homemade butterscotch squares, pandesal.
There was also a choice of cereals (with milk), a kinalas station complete with standard kinalas toppings, and a beverage station with brewed coffee, tea, hot chocolate, and chilled fruit juices.
As you can guess, I and my husband left the breakfast buffet well and truly satisfied.
Will I be back again? Certainly. I loved our stay at The Carmen Hotel. I can't wait to go back once the hotel is fully operational.