Experience the beauty and elegance of condo-living at the heart of the iconic pilgrimage city of Naga with UMA Residences! This is the perfect time to secure your dream condo residence or maximize your investments through a condotel!
Most Filipinos, especially those living in NCR, are used to condo living…but not the Bicolanos. We are blessed with vast lands, we enjoy the simple but beautiful landscape and lawns of our homes, that condo living only became a reality just recently.
When UMA Residences plotted their premier 16-story development in Magsaysay Avenue, it paved the way to Bicolanos embracing the beauty of condo-living! However, there may be some reservations and doubts as to what condo-living means. Now, here's why it's the best time to consider securing a condo residence or maximizing one's investment through a condotel.
START INVESTING THROUGH AN UMA CONDOTEL
Enjoy the perks of having a unit in a condominium development, full of premier facilities and amenities, enhanced and maintained by professional hotel-style management.
GET YOUR DREAM ROOM CONDO RESIDENCE
Move into your newest home where you can enjoy the beauty of Mt. Isarog and the Naga River in a modern condo-home amenities of Naga City's newest residential landmark.
WHY TAKE ADVANTAGE OF THE UMA CONDO RESIDENCE?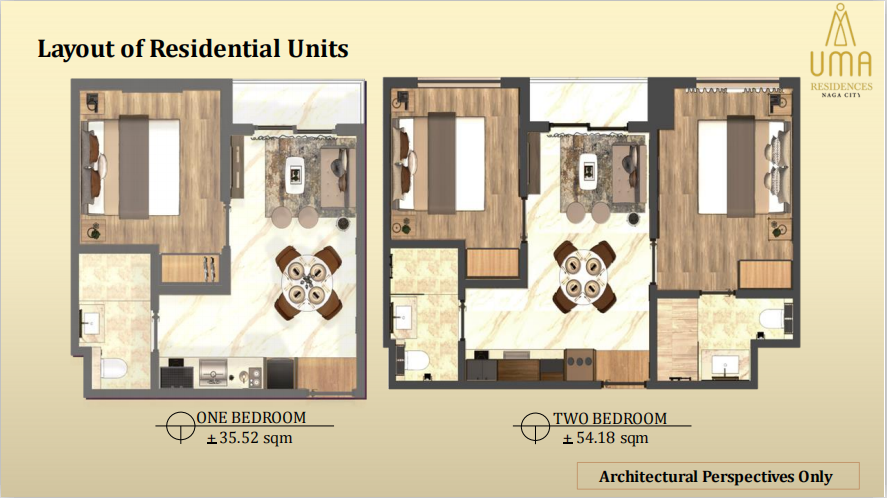 The first of its kind.
Be at the center of it all: culture, dining & entertainment.
Luxury devotion to every design element.
You can enjoy safety and security since your property is handled by a professional property management.
Easy access to recreational facilities and other amenities.
High property appraisal considering its prime location.
Are you ready to get your dream Condo Residence?
WHY MAXIMIZE YOUR INVESTMENTS THROUGH UMA CONDOTEL?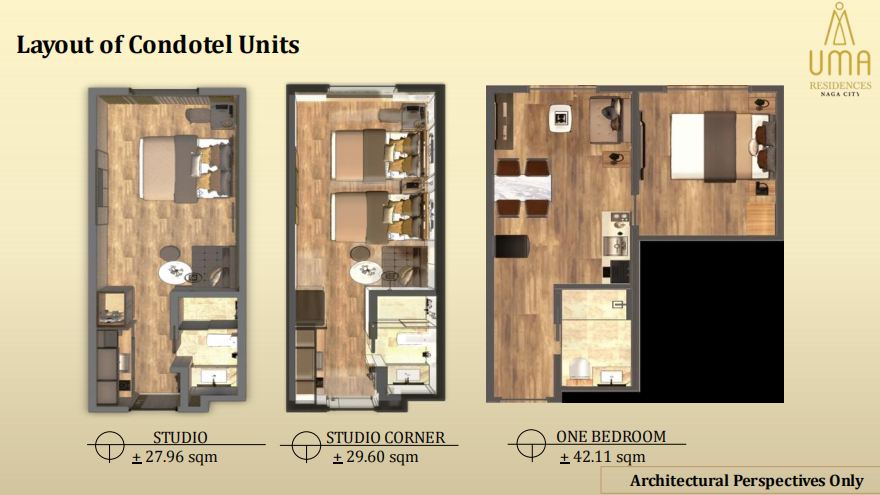 It's A Wise Investment – A prime investment in a prime location
Earn While You Are Away – Get a 30% earnings from the guest rooms revenue share, computed at pro-rated per square meters basis.
Vacation Home on Demand – Enjoy 45 Free Nights per year in the hotel, transferrable to family or friends.
Exclusive Privileges – Enjoy accommodations and dining privileges for personal use or can be extended to family or friends.
Worry-free Property Ownership – Be reassured that maintenance and upkeep of your unit will be expertly handled by hotel management.
Retain your Condominium Certificate of Title, which grants you the option to use your unit as a regular residential unit after 20 years.
Are you ready to get started? Let's secure your investments through UMA Condotel today!
LIVE THE DREAM!
Located along Magsaysay Avenue, a bustling center of business, culture & entertainment, UMA Residences is guaranteed to be a wise investment in a prime location. Apart from its location, UMA offers 5-star amenities and facilities you and your family can enjoy! Still in doubt? Check the following amenities and facilities UMA Residences has in store for you!
FIND OUT HOW TO MAKE UMA YOUR NEW HOME/INVESTMENT!