Let me tell you about one very "full" day – and I mean that literally – my husband and I spent on a Villa Caceres Hotel restaurants food hop.
That was one day in August, and my husband and I – with our 4-month-old baby and my husband's mom – stayed in one of Villa Caceres Hotel's Executive Twin Room. Since we were staying overnight, anyway, we decided to sample all three Villa Caceres Hotel restaurants/food outlets: Rolando's Cafe, Anne's Pool Bar and Bistro Roberto. We left our son with my mom-in-law and off we went on a gastronomic tour of Villa Caceres.
We hied off to Rolando's Cafe – Villa Caceres Hotel's flagship restaurant. We assumed (and quite correctly as it turned out) that if Villa Caceres Hotel were offering something remarkable, we would find it in their main restaurant.
When we got to Rolando's, our table was set up and waiting for us. It was immediately apparent that they have a well-trained and attentive wait staff. We were promptly led to our table and seated. Water was poured into the waiting wine glasses, and we were given a menu so we can start choosing what we wanted for our lunch.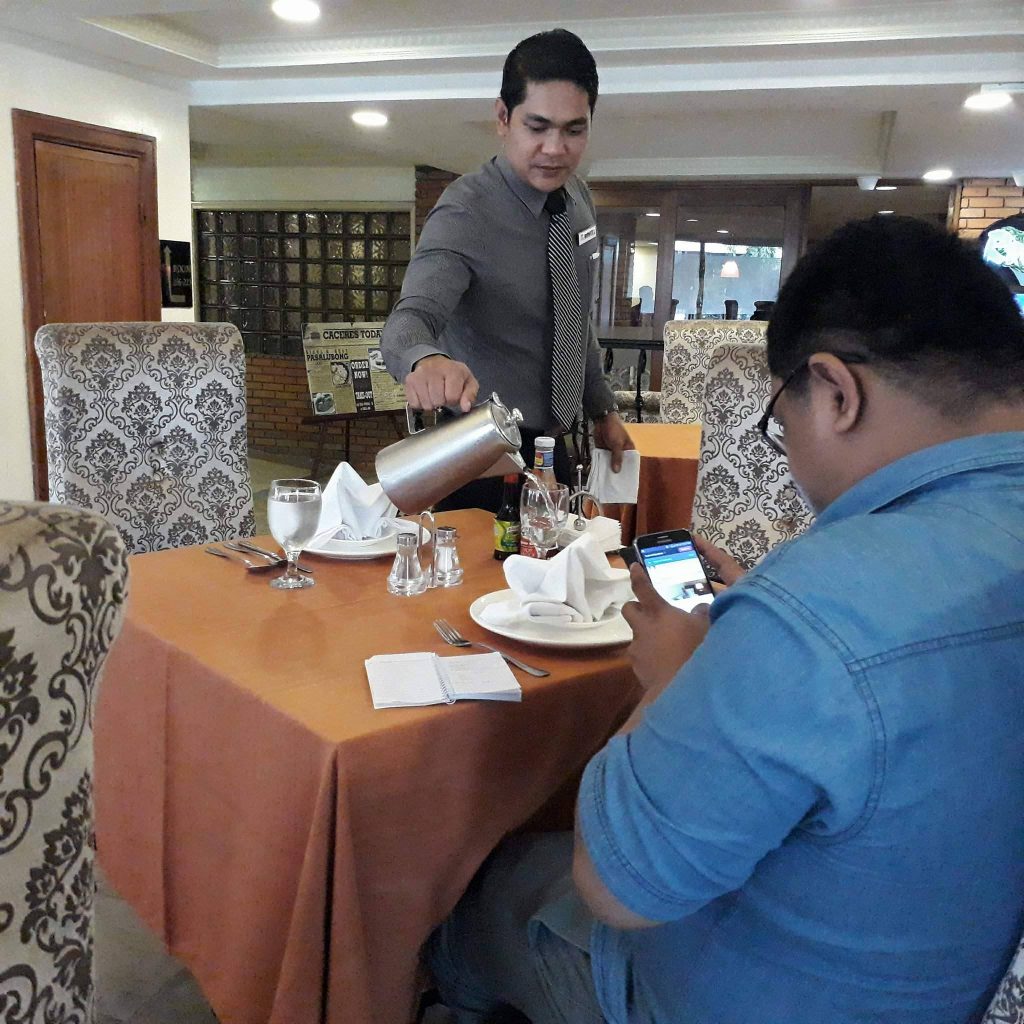 We started the meal with Cream of Mushroom soup. For the mains, we chose Pork Spareribs with Salt and Pepper, Beef Chinese Style and, of course, our Rolando's Cafe favorite, Chinese Vegetable Lumpia. We've loved it since the first we tried it; and we love it even more every time we try it.
The Chinese Vegetable Lumpia is served as a platter of individual components: a bowl of mixed veggies, and a tray containing lumpia wrapper, green leaf lettuce, Chinese parsley, sugared and crushed roasted peanuts, fried garlic, and deep-fried vermicelli with (I assume to be) dried seaweed bits.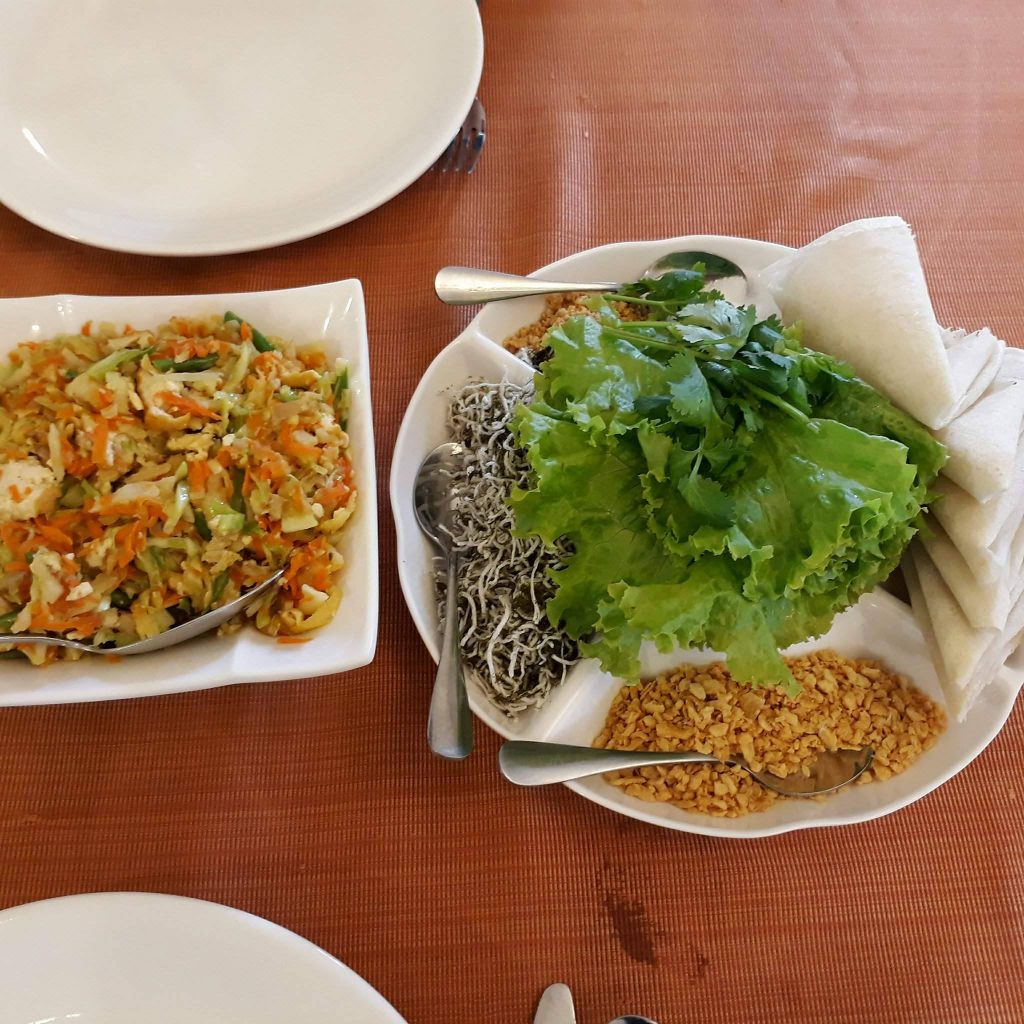 To enjoy your Chinese Vegetable Lumpia, place a lumpia wrapper on your plate, add lettuce then fill with the rest of the ingredients.  Next, roll the lumpia up. Filling the lumpia thus requires some forethought and planning; otherwise, your lumpia would break and spill its guts out.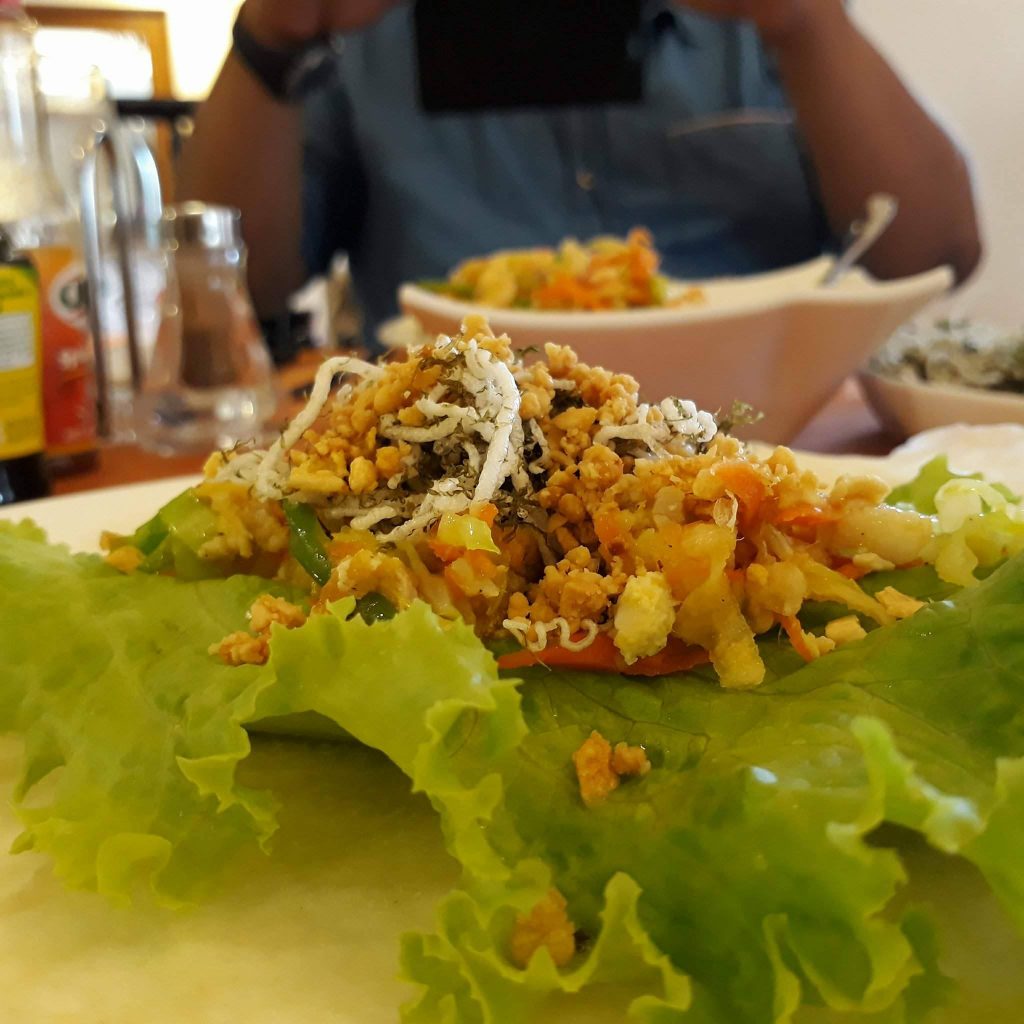 It's such a wonderful combination of different tastes, flavors and textures. Everything just melds together so perfectly. Moreover, it's not just the taste, which is spectacular for something that appears to be so simple. It's the experience, too. I don't know what it is about rolling your own lumpia that makes it so much tastier, but it undoubtedly makes everything more appetizing. It was so good!
The Salt and Pepper Pork Spareribs and Beef Chinese Style were also cooked beautifully. The spareribs dish was perfectly seasoned and the pork was crispy on the outside but moist on the inside. The Beef Chinese Style tasted soft and fresh and slightly sweet.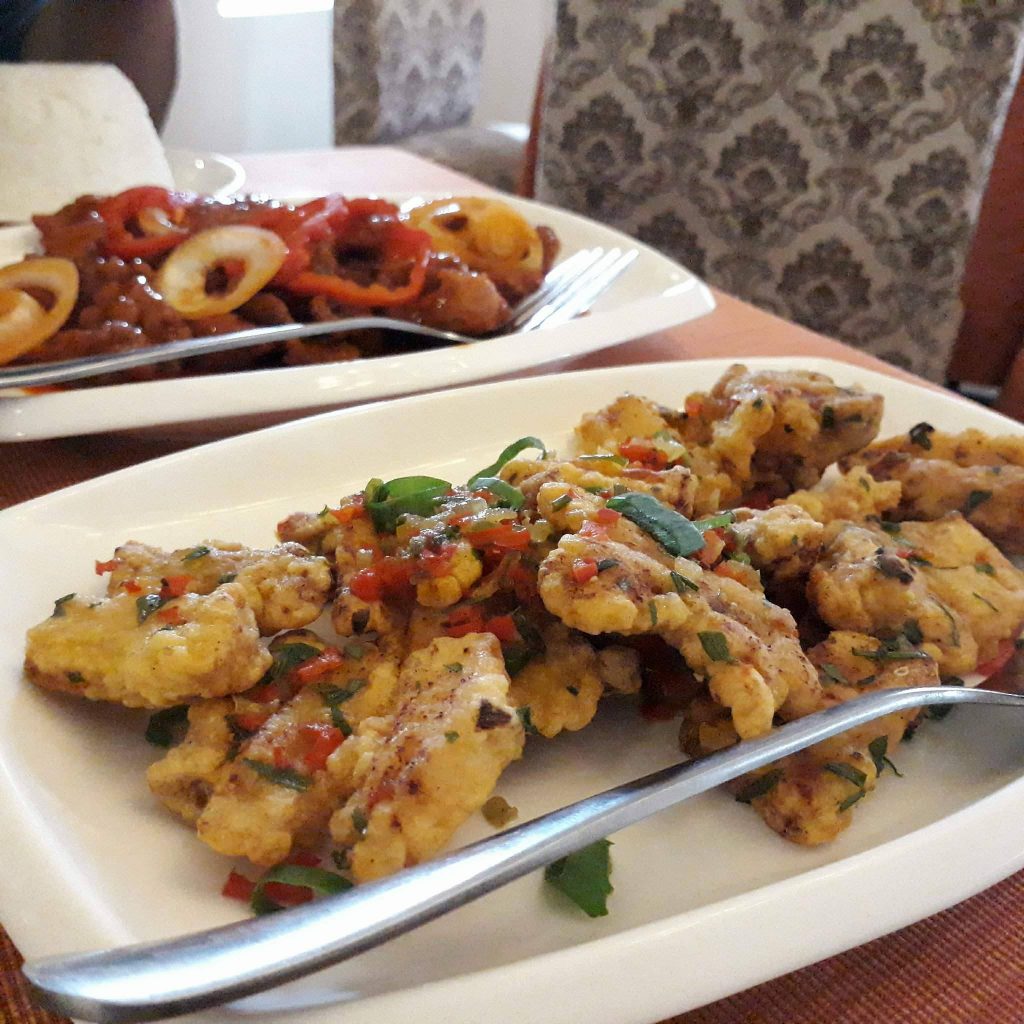 We definitely had a great lunch at Rolando's Cafe . My mother-in-law said she also enjoyed the Crabmeat Foo Yung that we ordered and sent to our room.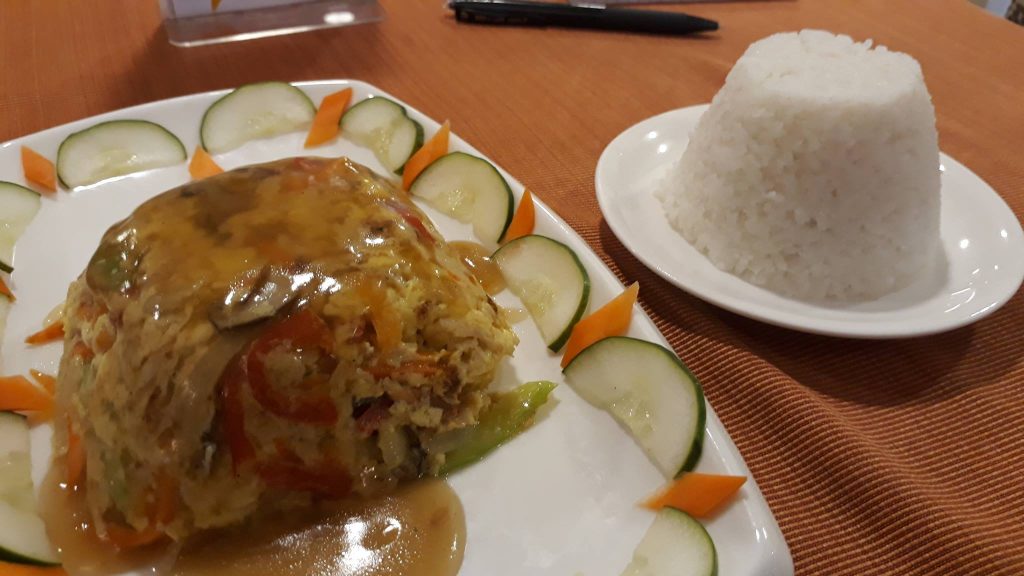 A few hours spent resting in our room (we needed the break after our very filling lunch), we decided to go downstairs to Anne's Pool Bar. As the name suggests, this is the Villa Caceres Hotel poolside restaurant. It has an al fresco dining area as well as an enclosed, air-conditioned restaurant area.
There was definitely something I wanted to try again; it's Anne's Pool Bar's Waldorf Salad. Tasting it again reminded me why I liked it so much the first time I tried it. It was the perfect balance of slightly tangy and creamy but not cloyingly so sauce (right thickness) over fresh green leaf lettuce and crunchy apples and cashew (I can feel my mouth watering even as I am writing about it).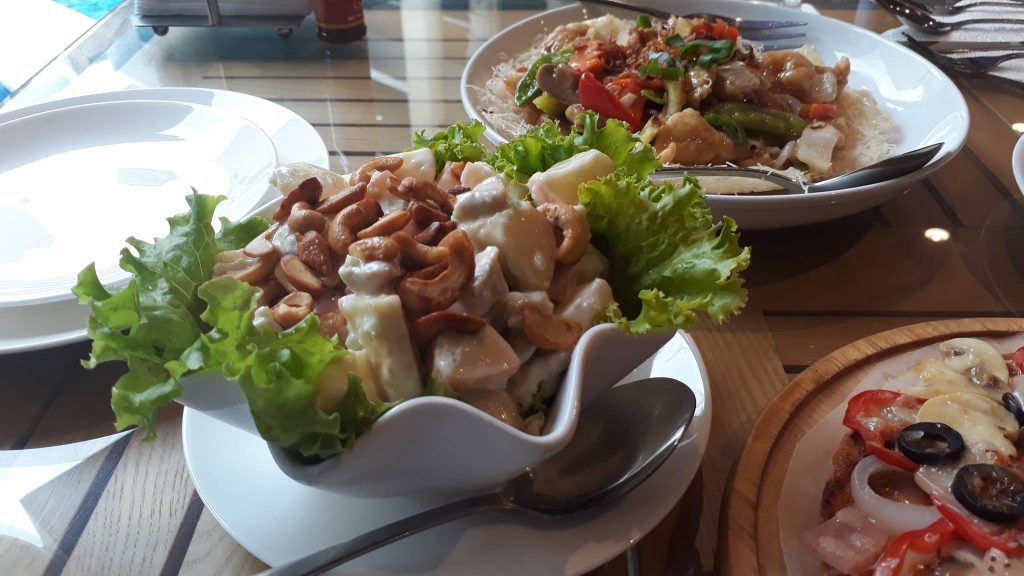 Upon Anne's Pool Bar's recommendation, we also had the Traditional Pizza and the Toasted Bihon.
The pizza looked and tasted wonderful. It was scrumptious.  We were still feeling so full from lunch, but we couldn't help but finish off the whole pizza.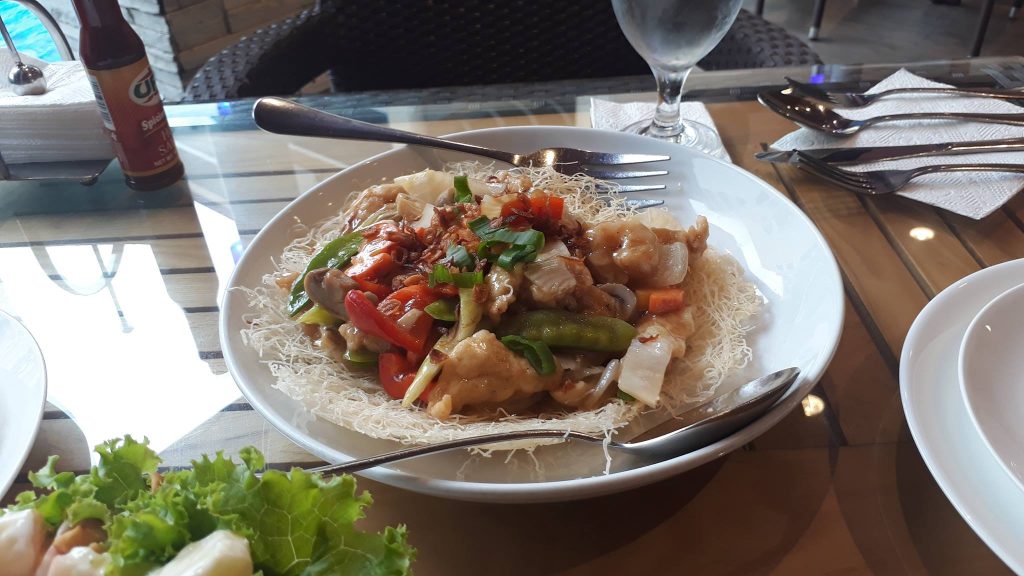 And the Toasted Bihon? It was certainly a different take on the usual bihon. Toasted bihon was topped with sugar snap peas, bell pepper, mushroom, onion, and fried & breaded fish fillet (to name a few of the toppings). To eat, loosen the toasted bihon and mix with the toppings. I actually started picking and eating my choice of toppings before the waiter (probably disturbed as I was eating it all wrong) asked me if I would like him to mix it for me.
By the way, Anne's Pool Bar does a mean buko shake. I highly recommend it; that's what I had with this awesome meal.
At 8 pm, we were still very full from our very satisfying lunch and merienda. Somehow, it felt like our tummy was savoring the deluge of such delectable food and was in no rush to digest it. It was a pity, really, because it was for this reason we could not go for Open Bar that night. I wouldn't have had anything to drink (breastfeeding mom here), but my husband could have had something alcoholic for a change cause he wouldn't have to drive home afterwards.  Bistro Roberto actually  has a very extensive drinks list. There's wine, vodka, tequila, whiskey, cocktails, and shots. There are non-alcoholic choices as well.
Anyway, even if we were still far from hungry, we were committed to experiencing all three Villa Caceres Hotel restaurants so off we went to Villa Caceres Hotel's new wing where Bistro Roberto is located. The staff promptly assisted us and took our meal orders.
Bistro Roberto's customers can choose to sit outside (in the patio) or inside depending on noise level tolerance. We weren't getting any younger (and thus had lower noise tolerance ) and preferred conversing over food, so we opted to sit outside. Even so, we did stay inside for a bit to fully experience the place.
Inside, there was a real bistro feel. On one end, to the right of the entryway, was a stage where a band was very energetically performing upbeat songs. Just below the stage was a free and open space (I assume) for dancing. All around this open space were scattered tables for customers; there was also a mezzanine containing more tables. And on the other side, across the door, is the bar.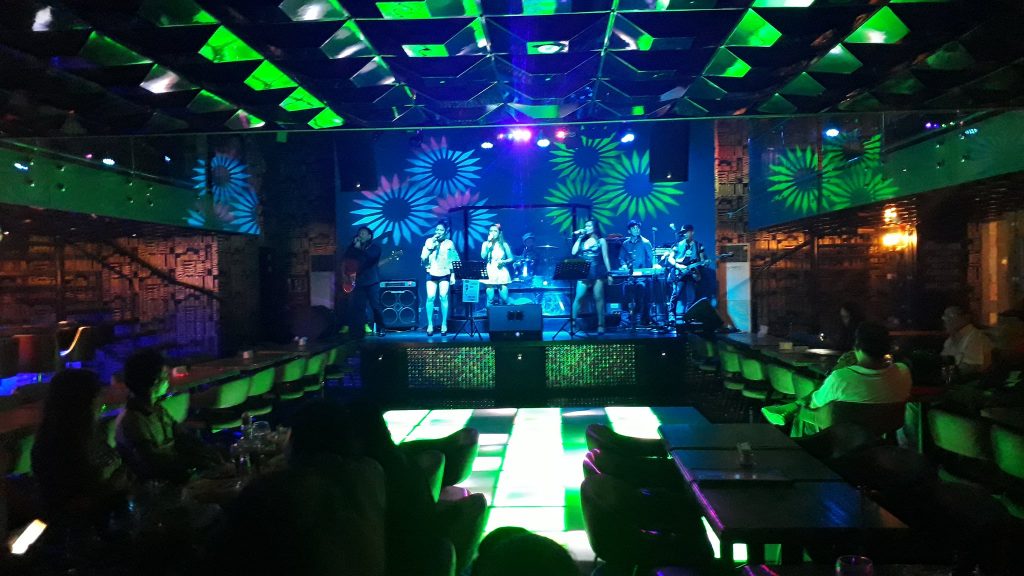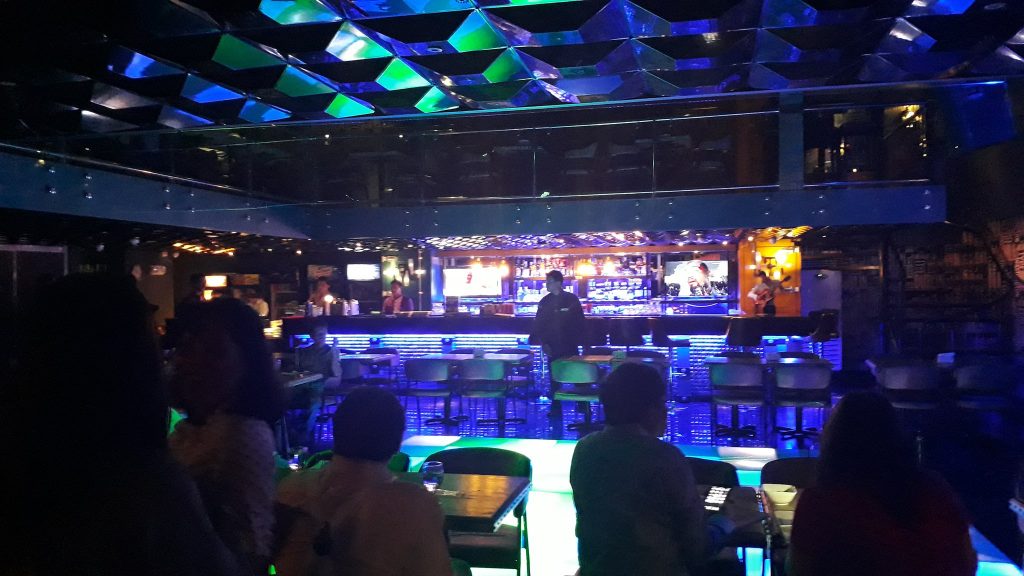 Bistro Roberto seemed to pulse with excitement. The multicolored lights, the loud music, the buzz of unintelligible conversation – all these made the place feel very much alive.
But – as already mentioned – we wanted to hear each other talk so we came back outside and waited for our dinner to arrive. We had Seafood Skewers, Sizzling Pusit and Tokwa't Baboy.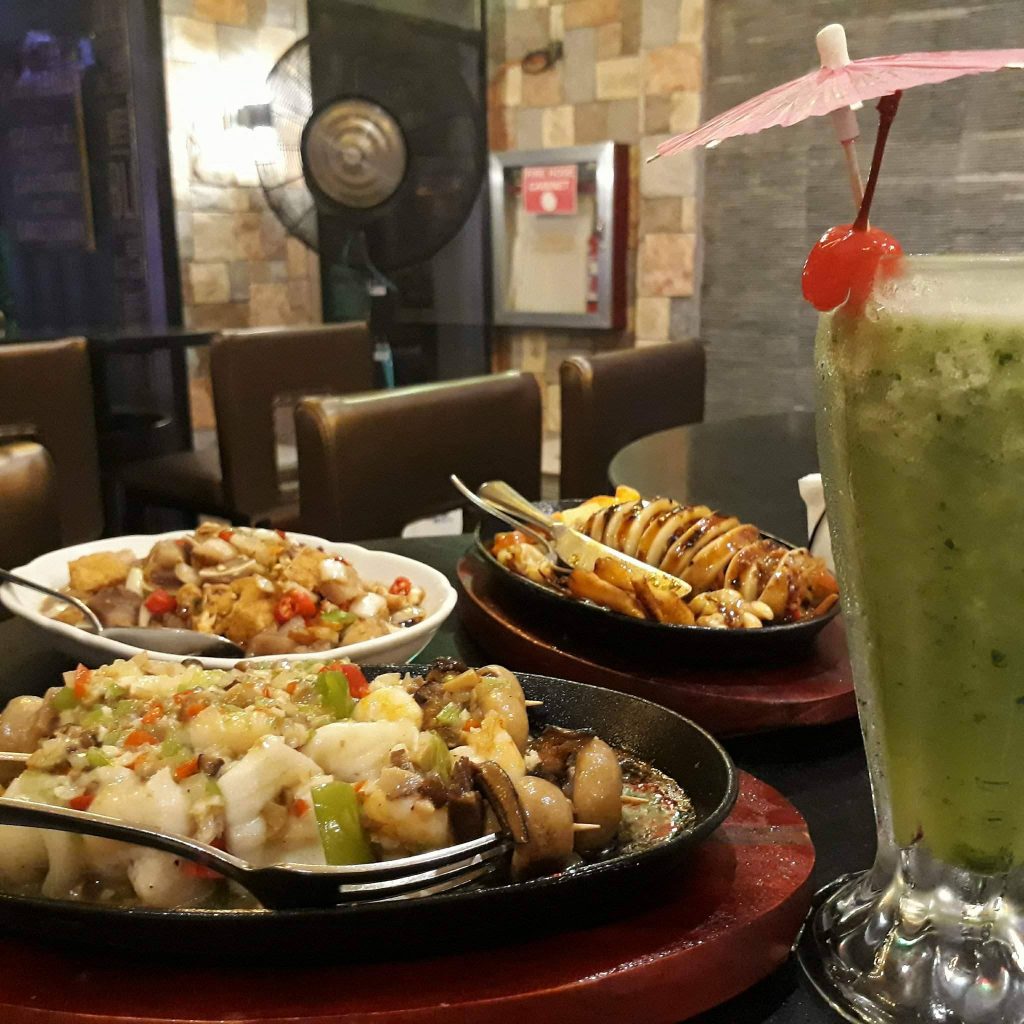 Just look at the squid – see how juicy and moist it looks? It's as juicy and moist as it looks. It was cooked just right. And I enjoyed the hint of spice in the Tokwa't Baboy; I particularly loved the salty sweet balance of the sauce. And the Seafood Skewers was a play on flavors and textures. Each skewer had mushrooms, onion, bell pepper, shrimp, fish, and squid. Every bite was a seafood delight. Now I cannot stop thinking about it and am craving it.
So What's My Verdict?
To recap, I and my husband did the Villa Caceres Hotel restaurants food hop during which we tried Rolando's Cafe, Anne's Pool Bar and Bistro Roberto in one day. Before anything else, let me give you one piece of advice. If you're planning to do the same yet have more than a day to do this, please space out your restaurant visits. Your tummy would thank you.
Now back to my review.
Did I enjoy my visit to Villa Caceres Hotel's restaurants? Yes, I did. I enjoyed every one of them.
Did I love the food? Yes, I did. Every dish we had was delectable. A lot of care obviously went into their preparation.
Did I like the service? Yes, I did. From Rolando's Cafe to Anne's Pool Bar to Bistro Roberto, the staff was very prompt to attend to our wants and needs.
Would I dine here again? Absolutely, though never again am I dining in all three on the same day. I most certainly will be coming back to taste more of the dishes I loved and try other things besides those I've already had.