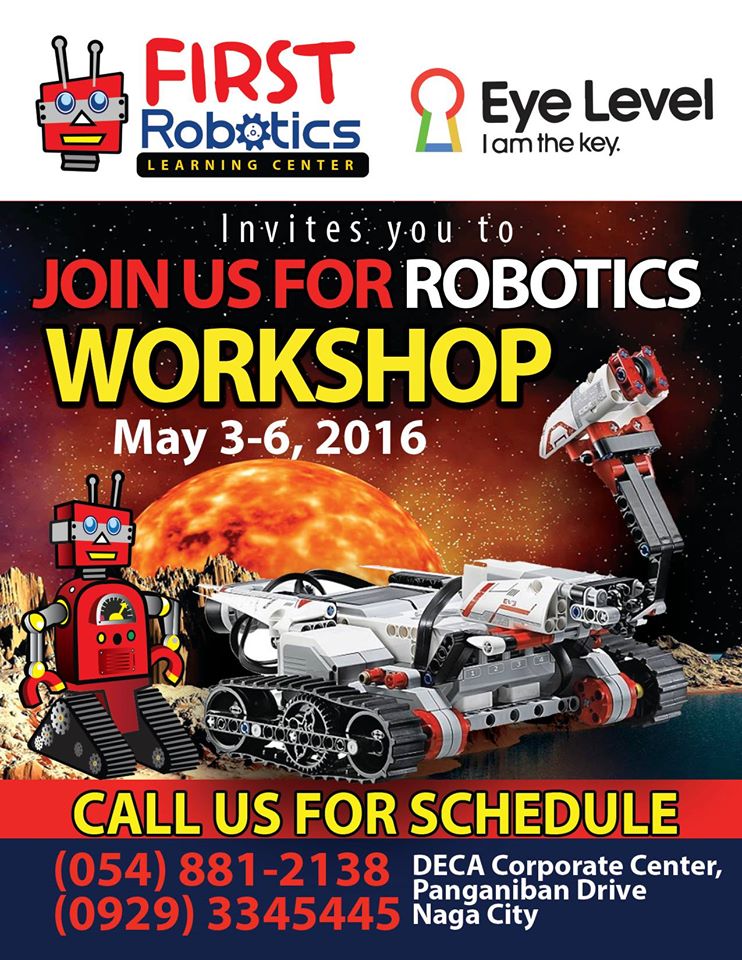 First Robotics Learning Center and Eye Level Center invites you to the Robotics Workshop happening this May 3-6, 2016.
FIRST Robotics Learning Center endeavors to implement the concept of learning with fun. Amidst technological advancements, kids these days spend majority of their time staying in front of computers or playing while in front of a display such as Playstation, iPad, iPhone, etc. We at FIRST Robotics Learning Center provides an alternative that teaches the kids to display their creativity through fun learning. With the center's fresh and innovative approach to robot designing, kids are assured of assimilating up-to-date information and manipulating state-of-the-art materials which are primarily utilized in the field of robotics. The center emphasizes on STEM (Science, Technology, Engineering and Mathematics) education in its quest to equip the students with competitive robotics literacy.
First hands-on experience with Robotic Kits is provided. Our educators are distinguished by their functional. The lesson set-up trains kids to be team players and problem solvers. It also aims to tickle their imagination and ignite their resourcefulness. Kids will learn directly by creating, exploring, troubleshooting and making their own ideas come to life. They'll learn how to think outside the box.
Exceptional functional and technical expertise coupled with extensive knowledge in robotics makes First Robotics Learning Center an ideal choice to supplement and enhance your kid's innate skills and creativity. FRLC – the place where fun learning rules!