Learn how to make money from blogging with Anton Diaz, the founder and blogger of Our Awesome Planet, recognized as one of the Top Travel Blogs in the world — Top 50 by The Expeditioner | Top 50 by TraveloCafe and Ed Pilapil Jr, author, speaker, business coach and entrepreneur.
One of the least talked-about and least understood ways of earning money in Bicol is through blogging.  The awesome power of the world wide web has opened opportunities that were not available 10 years ago and are not even being taught in schools today.  How do you earn from blogging?
You get paid for every click that the ad boxes on your blog gets.  The ads on these boxes are provided by online advertising networks like Google Adsense, Nuffnang and Infolinks.
You get paid to publish blog posts about the events, products or services of big companies like Hotels, E-commerce sites, Travel Apps, etc.
You get paid for every referred sale or customer to companies like Uber, AirBnB, or Amazon.
You get paid monthly for ad spaces by direct advertisers on your site.
Basically, the blogs of today serve the very same purpose that the magazines and newspapers offer to advertisers – they offer a way for businesses to gain exposure to their target demographics.  The only difference is the fact that blogs are much much cheaper to set up and maintain and blogs can be created by almost anyone with the inclination towards writing.
Do join us as we explore this wonderful opportunity and teach Bicolanos how to get started on blogging and earn from it.  You can reserve your seat by filling out the reservation form at the bottom of this post.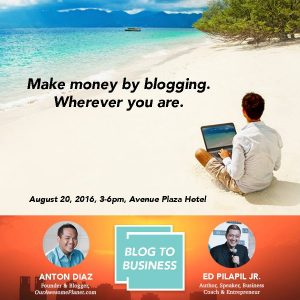 Ticket Prices:
Early Bird Rate Regular [Before Aug5]:  P800.00
Early Bird Rate Academe [Before Aug5]:  P500.00
Regular Rate Aug6-19:  P1,000
Academe Rate Aug6-19:  P800.00
Walk-in Rate:  P1,500.00
Those who registered online must deposit an honest rate to BDO SM City Naga City, Camarines Sur CreedoGroup, Inc. CA 6828011822 and send a picture of their deposit slip to creedoseminars@gmail.com and text 0917 898 7100 to notify us that they have emailed us, or they can just bring the deposit slips on the day of the seminar
Tickets are also available at The Coffee Table, 2nd Floor ADC Hotel, Magsaysay Ave, Naga City.
[si-contact-form form='13']